"We have 30 years of sketches, details , stories and wonderful imagery from past projects, so we created this section to share some of that art and process from the past. The process can be as exciting as the product!" - Eddie Sotto
So to start things off, I often get asked if I had an interesting Disney project that never got built.
Here's one.
"Lafitte's Island (and Catacombs)- 1998 Disneyland"
Guests find a small cemetery across from the Haunted Mansion along the river. Standing tall above the headstones is New Orleans most notorious pirate citizen Jean Lafitte. Upon closer inspection, thieves have dug up his brother's grave and opened his crypt. Dare we venture inside?
In the late 1990s, long before Johnny Depp wore mascara and brandished a sword, I was on vacation in Hawaii, sketchbook in hand when the notion of transforming Tom Sawyer Island at Disneyland into "Lafitte's Island" (in honor of New Orleans most famous privateer) hit me. Disneyland had references to Lafitte in the form of naming the landing after him on the Pirates Attraction, and even an Anchor in his honor along the river.
The fact behind the fiction.
Historically speaking, Lafitte had a real thieves market of stolen goods on an island (Barrataria) across from New Orleans and the wealthy would shop there, so the logic made sense to me. I quickly read his alleged memoirs where he claims to have faked his death. The "driver" of this while thing was that park's operators wanted to eliminate the Tom Sawyer Rafts that transported guests back and forth, even explore closing the island for economic reasons. The Lafitte suggestion set out to address this issue by improving it's daily visitation and profitability while lowering operating costs (limited by the capacity of the rafts.) By tunneling under the river and creating a 2 way "underpass" of sorts, we would bring an unlimited flow of guests on and off with little operational cost. How? In the form of "Lafitte's secret crypt and Catacombs." Story was that Lafitte faked his death and created a burial Crypt in a small graveyard along the river in front of the Haunted Mansion. Grave robbers, knowing it was actually a secret passage had broken through to the series of catacomb like chambers, littered with treasure and the remains of Lafitte's conquests. This led to the island where a capsized series of scuttled ships hulls were covered in Earth as secret interior rooms and hideouts were there to be explored. Even though there are only a few sketches and some of them are pretty rough, others have been cleaned up in living color, so let's go!!!
Guests explore the remains of lost crews, treasure and Lafitte's piratical career, chamber by nefarious chamber.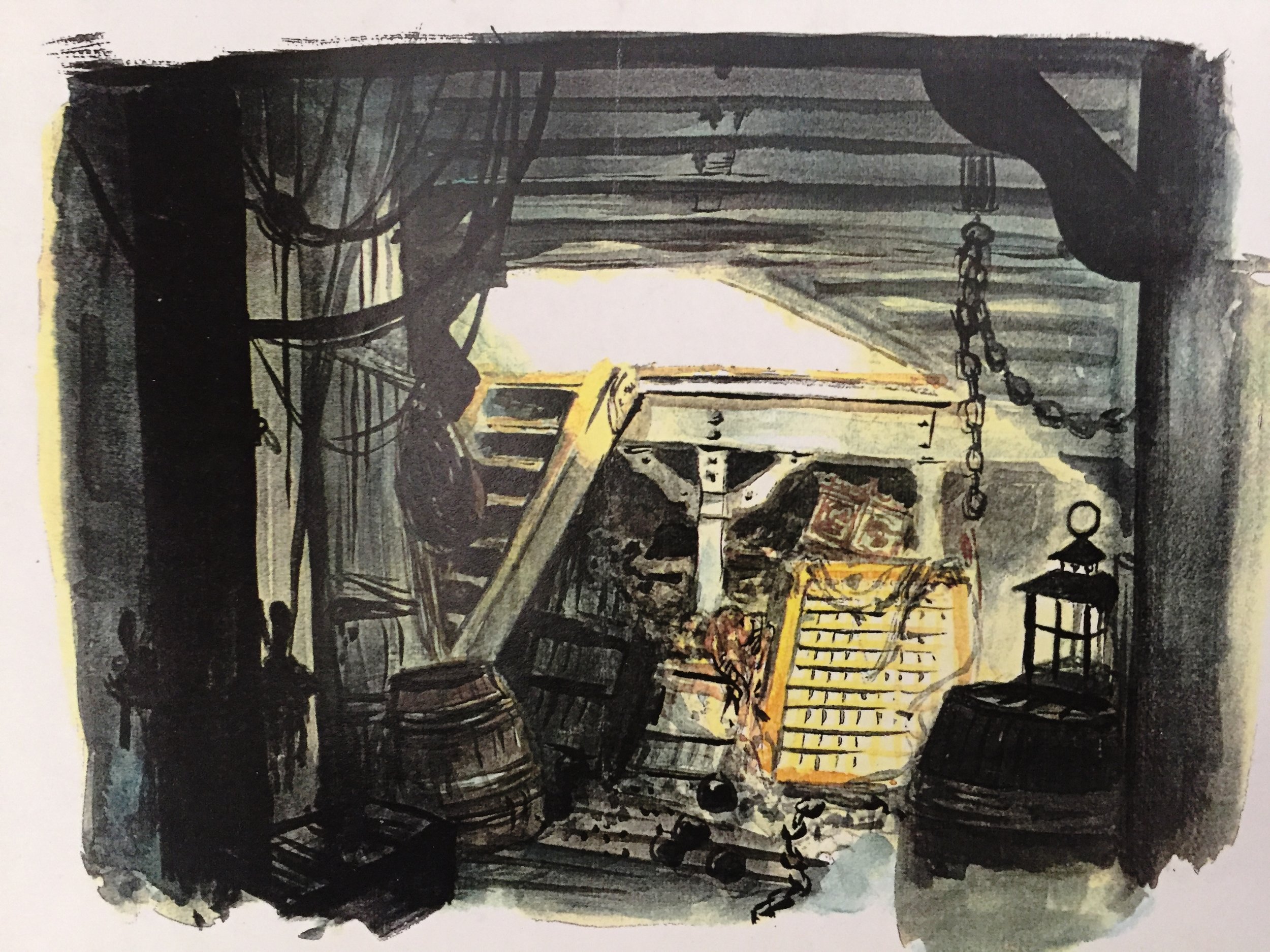 At the end of the catacomb, we find a shipwreck buried below ground with stairs leading to the light of day and Lafitte's Island.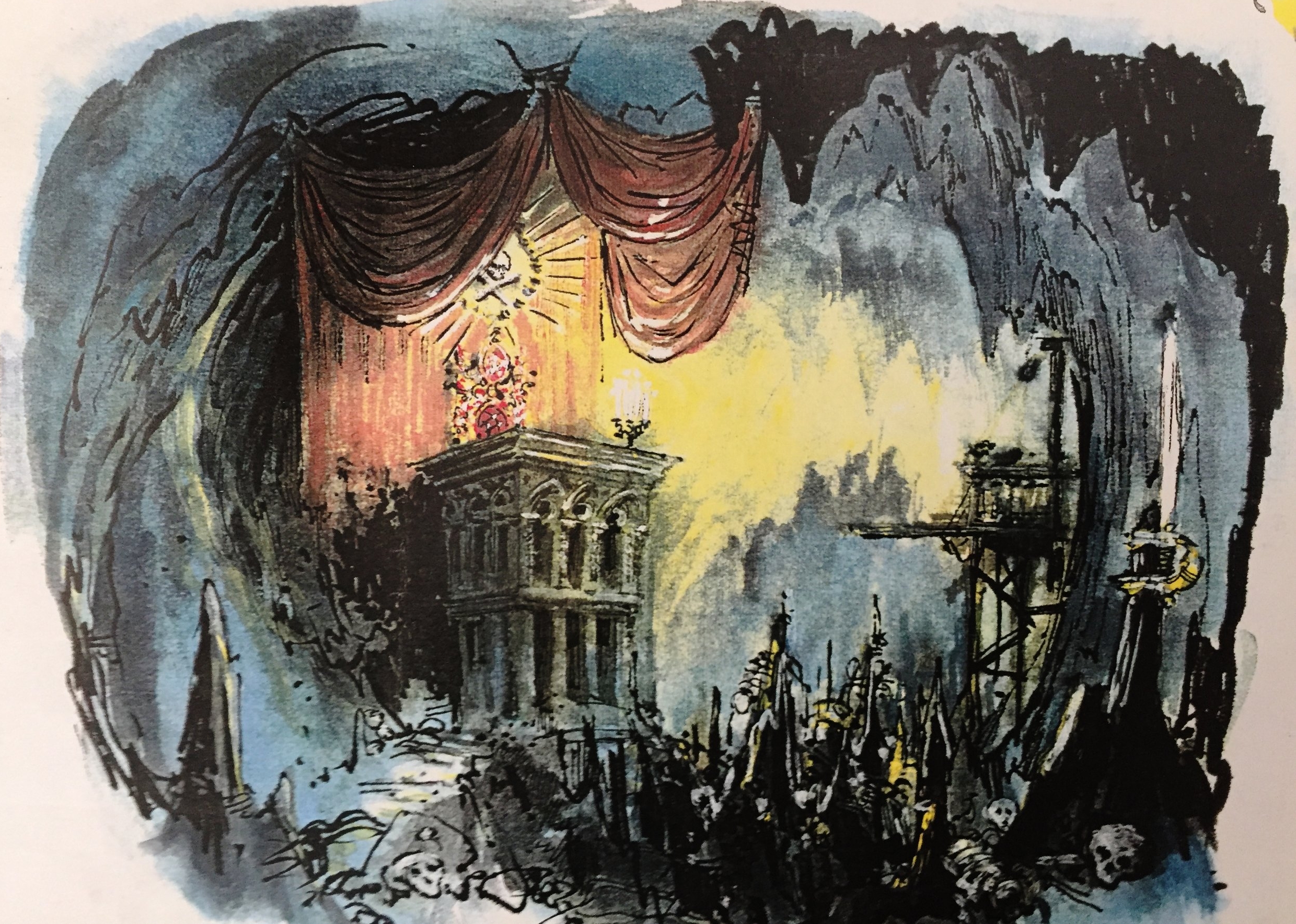 Violations of ship's articles and embezzlement were taken seriously. Lafitte held court from a Spanish throne in this cavern where we hear the splash of the surf and witness the plank of the convicted.
Lafitte Bros. Treasure Lair
Capsizing the remains of a shipwreck and disguising it with earth, the Lafitte's were free to trade from a grand cache of treasure with the New Orleans elite. Food, Pirate grog made from gunpowder, baubles and trinkets, along with challenges in gunnery await adventure seekers.
Here we see how the underground fort used to protect itself with demonstrations of captured Spanish cannons.
Next time you are at Disneyland and stroll along the river near the Haunted Mansion, note this bricked up entry. Could this be the sealed entrance to Lafitte's lost catacomb? Guests have been wondering this for more than a decade, and ironically some of his legend has made it to the Island, but someday we may explore the rest of his legacy...till then, our caves are sealed ;-)